By now you probably know what UPI is. If you don't, consider checking out our post explaining UPI and its benefits. There are multiple ways to transfer money using UPI, like with mobile numbers and Aadhaar numbers, but what makes UPI more secure is the ability to use VPAs.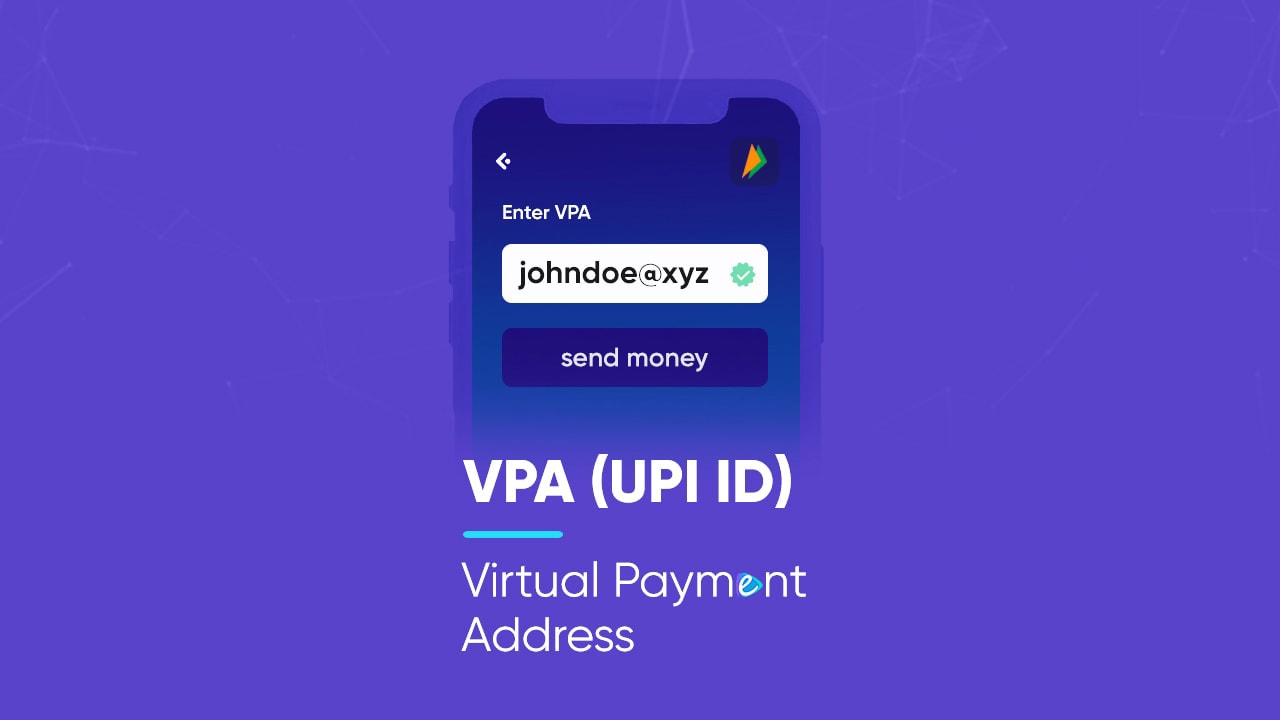 Table of Contents
Traditionally, when one needed to transfer funds to someone digitally, they needed to have various details, like bank account number and IFSC, and even go through the tedious process of adding beneficiaries and payees. The easiest and most secure process used to be MMID, which only exposed the mobile number, but that also revealed something that people would rather not reveal to everyone. VPA is the solution to all this mess, as it masks all the sensitive data and makes fund transfers simple and secure.
What is VPA (Virtual Payment Address)?
A VPA, or Virtual Payment Address, is kind of like your username on the UPI network. It is also called the UPI ID. Consider this like your email ID, where you can send and receive money (instead of emails). Note that UPI ID, UPI Address, and VPA are all the same thing. You only need a VPA to send and receive money via UPI, thus eliminating the need to look up or remember account numbers & IFSC codes.
When you sign up in a UPI app, you can set your custom Virtual Payment Address, which you can then use to either send or receive money from other UPI users. It is in the format of username@handle or username@bank, or username@upi. Here, 'username' refers to your username, which you can set in the UPI app, 'handle', 'bank', and 'upi' are the identifiers of your bank or app and are called handles. Here's a list of all UPI handles. If you didn't create your custom Virtual Payment Address inside your UPI app, the app creates one for you automatically, which is in the format of mobilenumber@handle, e.g., 9090000909@upi.
Detailed guides to creating and/or changing your Virtual Payment Address in various apps can be found in the guides section.
Benefits of VPA
Sensitive details like bank account numbers and mobile numbers are hidden, and all transactions can be carried out with just the payment address.
VPAs are easier to remember than bank account numbers, IFSC codes, and MMIDs.
VPAs can be customized to one's liking. One can get their custom VPA, which can include anything they wish.
VPAs can be changed multiple times from the app, without visiting the bank branch.
Each VPA can be linked to and used with multiple bank accounts.
VPAs don't automatically expire. Even if one doesn't use a VPA for quite some time, the VPA stays active, until it is manually changed/deleted by the user. Even after a VPA is deleted, it remains inactive for a long time before being recycled.
Rules for VPA
VPAs can contain alphabets, numbers, periods, and hyphens. The username in a VPA can only begin and end with either an alphabet or a number, not a period or a hyphen.
VPAs can be changed multiple times, subject to the availability of the feature in the app. Some apps don't allow changing, or even setting a custom VPA, like Google Pay.
Two VPAs can't be the same. VPAs are unique for every handle. This means, that two people using the same handle can't have the same VPA but can have the same username on different handles. For example, abhishek@sbi can only belong to one person, while abhishek@upi, abhishek@ybl, and abhishek@axis may belong to different people.
Handles can't be used as usernames in VPAs. For example, sbi@sbi can't be used by anyone. These VPAs are reserved by banks themselves.
A VPA can be mapped to multiple bank accounts, but will actively work only with only one account at a time. Users need to set a default account that the VPA will be linked. Default accounts can be changed anytime and any number of times by the user inside UPI apps.
Frequently Asked Questions on VPA / UPI ID
What's the meaning of VPA in UPI?
VPA stands for Virtual Payment Address. It is your unique UPI ID, or UPI Address, which you can use to send and receive money via UPI. It hides sensitive data like your bank account number and mobile number.
What is my UPI ID / VPA?
You can find your VPA / UPI ID inside your UPI app. If you did not set a UPI ID, your default ID is 'yourmobilenumber@handle', and it is created automatically by the app for you.
How to set my VPA / UPI ID?
You can create, change and delete your VPA in your UPI app. Normally this option can be found inside app options > VPA / UPI ID / UPI Address.
How to use VPA in UPI?
You can use VPA to send or receive money via UPI. While sending, you can enter the receiver's VPA in the app, verify the name and proceed with the transfer. While receiving, you can request funds from the UPI app, or ask the sender to send money to your VPA.
Can I link multiple bank accounts to one VPA?
Yes, you can link as many accounts as you wish to one VPA / UPI ID, but you need to set one account as primary which the app will use for inbound transactions.
If you have any more questions/doubts, feel free to leave them in the comments below.