Scapia, a new startup by former Flipkart senior vice president and tech veteran Anil Goteti, has made its entry into the Indian credit card space the Scapia credit card. Read on to find out what all this card comes with, how the startup plans to make a mark with this product, and more.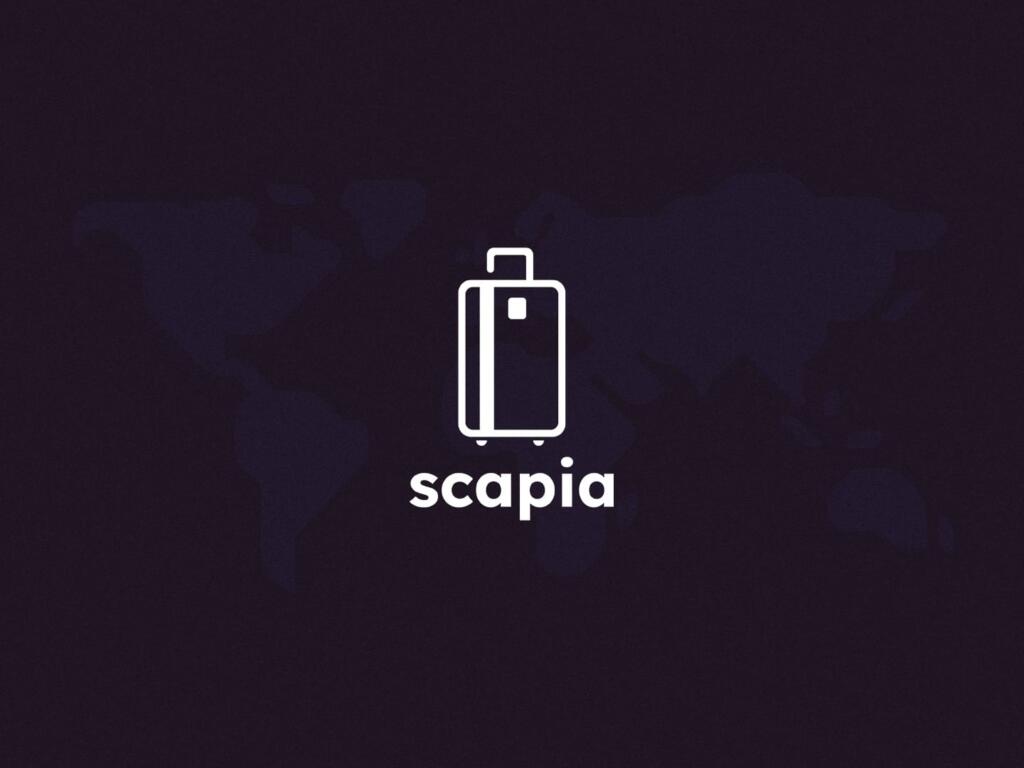 Table of Contents
A bit about Scapia
Scapia, registered in India as Scapia Technology Private Limited, is a new tech fintech startup helmed by former Flipkart senior vice president Anil Goteti. Scapia aims to build a platform specifically geared towards travel and travelers. With their app, Scapia plans to offer users simple and rewarding travel-related experiences like booking flights, hotels, and more.
Among their first batch of offerings to the mass markets is this newly announced co-branded Scapia credit card.
What is the Scapia credit card?
The Scapia credit card is a co-branded travel-focused credit card offered by Scapia in partnership with Federal Bank. With the credit card, users can book travel experiences on the app and get rewarded with Scapia coins – Scapia's proprietary reward system, which can then be converted into discount vouchers.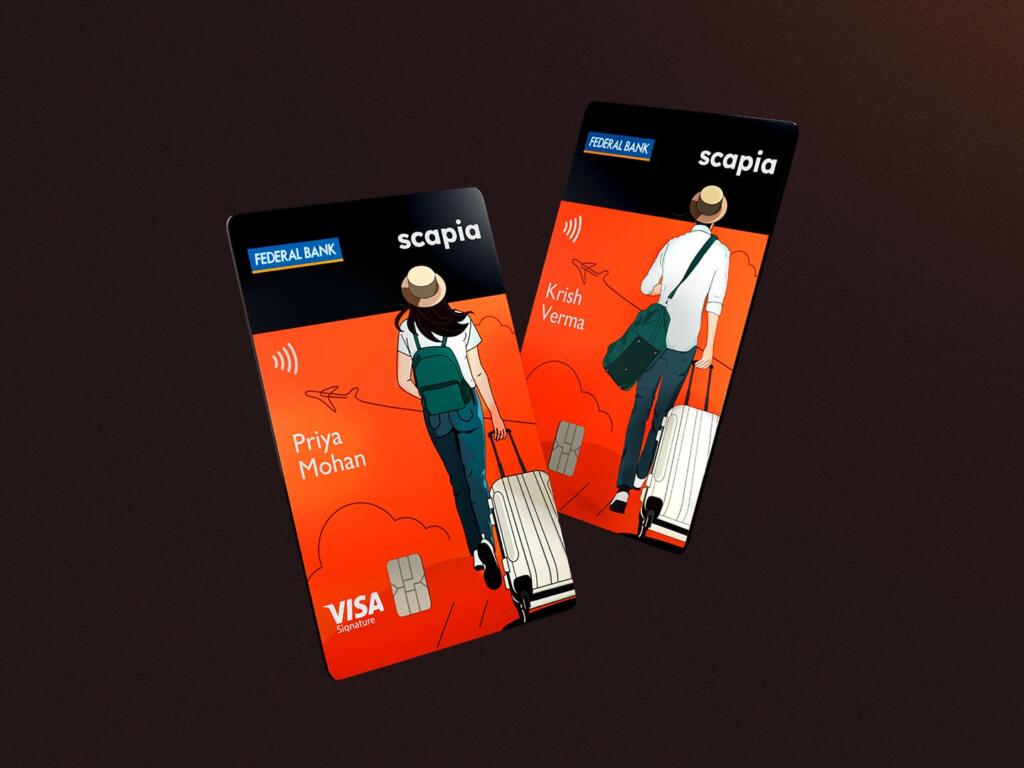 The card is backed by VISA as the card network processor and comes on the VISA Signature platform – allowing cardholders to avail of VISA Signature credit card deals and benefits as well.
In recent times, there has been a surge in the popularity of credit cards tailored specifically for travel enthusiasts. With established brands like EaseMyTrip, MakeMyTrip, and others already having their co-branded credit cards out in the wild, the introduction of the new Scapia credit card follows a similar trend.
Scapia credit card features, benefits & rewards
Following are the highlighting features, benefits, and reward pointers of the new Scapia credit card:
Lifetime free card
The Federal Scapia co-branded travel card doesn't bear any joining or annual membership fees. It is a lifetime free credit card without the need to achieve any set amount of transactions or spends.
Unlimited complimentary domestic airport lounge access
The card comes with unlimited complimentary domestic lounge access benefits for the primary cardholder. However, users are required to spend at least ₹5000 per month to unlock and avail of this benefit. If the spending targets are not met, users can still access domestic lounges at the regular lounge access rates.
20 Scapia coins per ₹100 spent on the Scapia app
Transactions done for booking travel services on the Scapia using the co-branded card shall be rewarding for the users. The card gives back 20 Scapia coins for every ₹100 spent in the Scapia app. The value of 1 Scapia coin is 20 paise (or 5 Scapia coins = ₹1, making the real-life value back to be 4%), and Scapia coins can be redeemed in the app for discounts on travel bookings.
10 Scapia coins per ₹100 spent elsewhere
Transactions done with the Scapia credit card outside the Scapia app entitle users to earn 10 Scapia coins per ₹100 spent. Again, the value back comes down to 2% in real life, and these coins can be used for discounts on travel bookings on the Scapia app.
Zero forex markup on international spends
The Scapia travel card comes with zero forex markup on foreign spending. Forex markup fees on competing credit cards range from 1.5% to 3.5%, while the new entrant offers zero foreign exchange markup fees. However, it is important to note that while foreign spends will incur forex markup, they will also not be eligible for Scapia coins.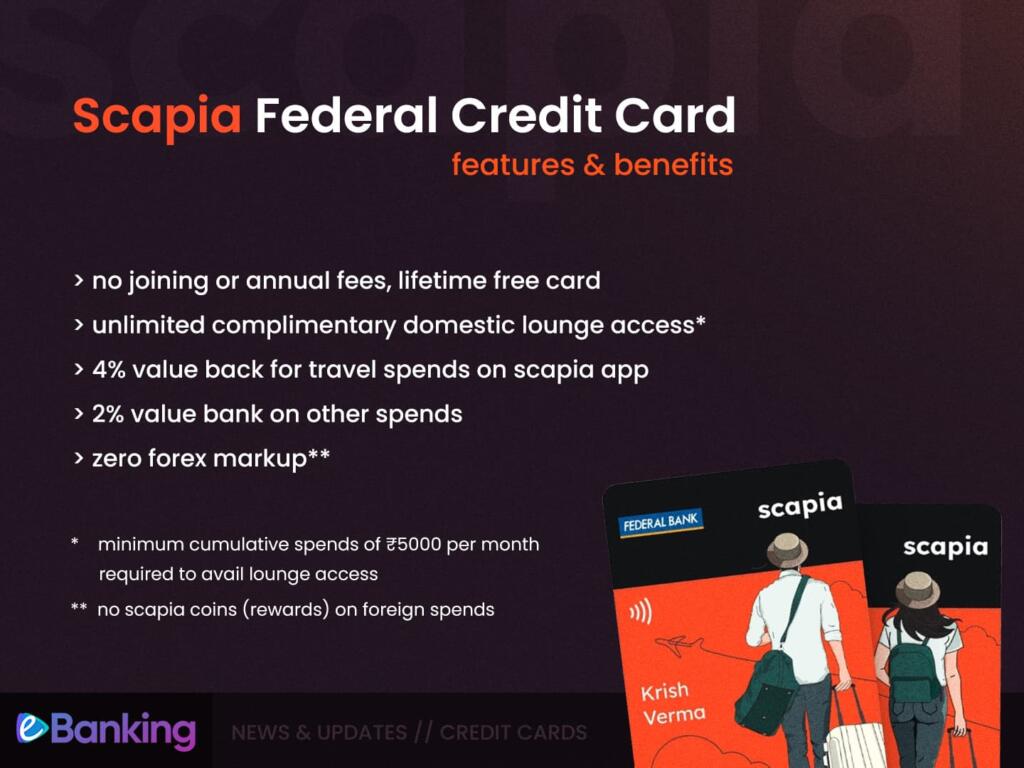 Federal Scapia credit card eligibility & application
Until this point, neither Scapia nor Federal Bank has defined the exact set of eligibility criteria for the Scapia credit card. However, you can consider the following as basic eligibility criteria for the card:
Indian resident, serviceable address
Steady source of income
Other than these, the card approval shall be at the discretion of the Federal Bank, and you may be required to fulfill additional criteria.
The Scapia credit card is currently in the testing phase and is not open to the public. Interested users can, however, join the wishlist on the app, and Scapia shall notify users when the card starts rolling out to the public.
Please keep in mind that if you are an existing Federal Bank customer in any way, you will have to wait a bit longer for the Scapia card. This is due to complications involved in onboarding existing Federal Bank customers onto the co-branded credit card systems, but Scapia and Federal Bank are working to solve these issues.
You can find more details about the Scapia card on Federal Bank's website here.
That should be all for this one. Let us know what you think about the new Scapia credit card or if you have any doubts or queries regarding this one.