Building a credit score from scratch can feel like a daunting task, but don't worry — we'll break it down into comprehensive, actionable steps for you. It is never too late to start learning about financial responsibility and getting into the credit scene!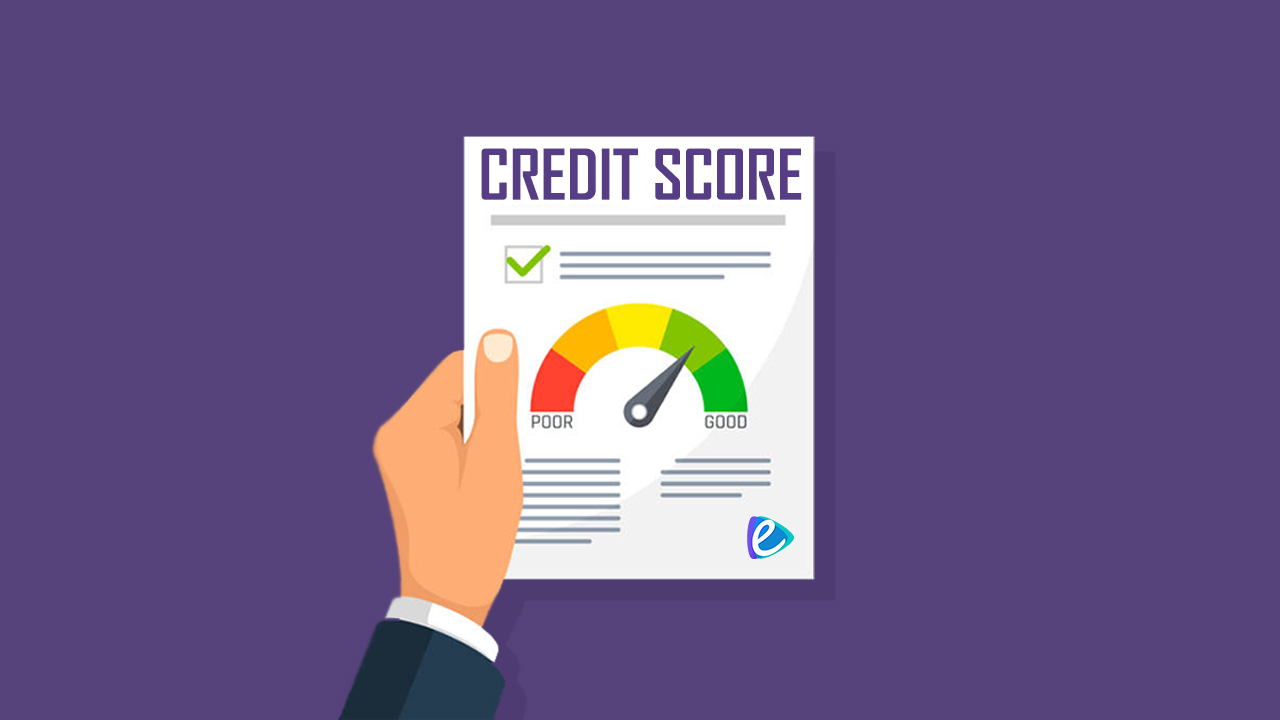 Table of Contents
When you're starting out with credit, it's natural to feel tempted to go after all the credit cards you see others using. However, it's crucial to prioritize building your credit score and profile before even applying for credit cards or loans. This is because banks and financial institutions heavily rely on your credit score and profile when evaluating your eligibility for credit cards and loans.
Your credit score and profile reflect your creditworthiness and financial responsibility. They are a snapshot of your borrowing history, payment patterns, and overall financial behaviour. Banks use this information to assess the level of risk involved in lending to you. When you already have a few cards and loans with good limits, you work on improving your score to maximize the chances of getting higher limits and lower rates of interest, but what if your credit score is zero? If you have no credit history, your credit score isn't generated or is at zero. In this guide, we'll work you through some steps to help you build your credit score from zero.
Before we dive into the meaty stuff, you need to understand what credit score is and how lenders process your application for credit.
What is a Credit Score?
A credit score in India is a number that shows how creditworthy you are, ranging from 300 to 900. A good score increases your chances of getting credit with higher limits and lower interest rates, while a low score leads to higher interest rates and lower credit limits from lenders.
Now, what is a good score, and what is bad? Well, in general, anything above 750 is considered a good score and anything under 500 is considered below average.
If you want to check your credit score, you might wanna take a look at our guide on how to check credit score for free across multiple credit bureaus.
What is a Credit Bureau?
Credit bureaus or credit rating agencies in India gather and analyze data regarding an individual or business entity's credit transactions (loans, credit cards, overdrafts, etc.). This information encompasses personal details such as address and contact numbers, as well as financial specifics like the number of loans and credit cards availed, repayment dates, due amounts, etc.
These bureaus hold the responsibility of maintaining a record of creditworthiness and credit behavior that can be used by lenders to decide credit eligibility. We've explained in detail how credit bureaus work in the credit industry, which you can check here: Credit Bureaus, Credit Score, Credit Inquiry, Credit Utilization, How They Work, & More.
In India, CIBIL and Experian are the most popular and widely used credit bureaus. If you're interested in reading more about these credit agencies, take a look at our list of credit bureaus in India.
How to build Credit Score from scratch?
If you don't have any credit history whatsoever, you most likely have a score of zero. This is very common for students and youngsters who have no credit card or loan in their name and want to get one.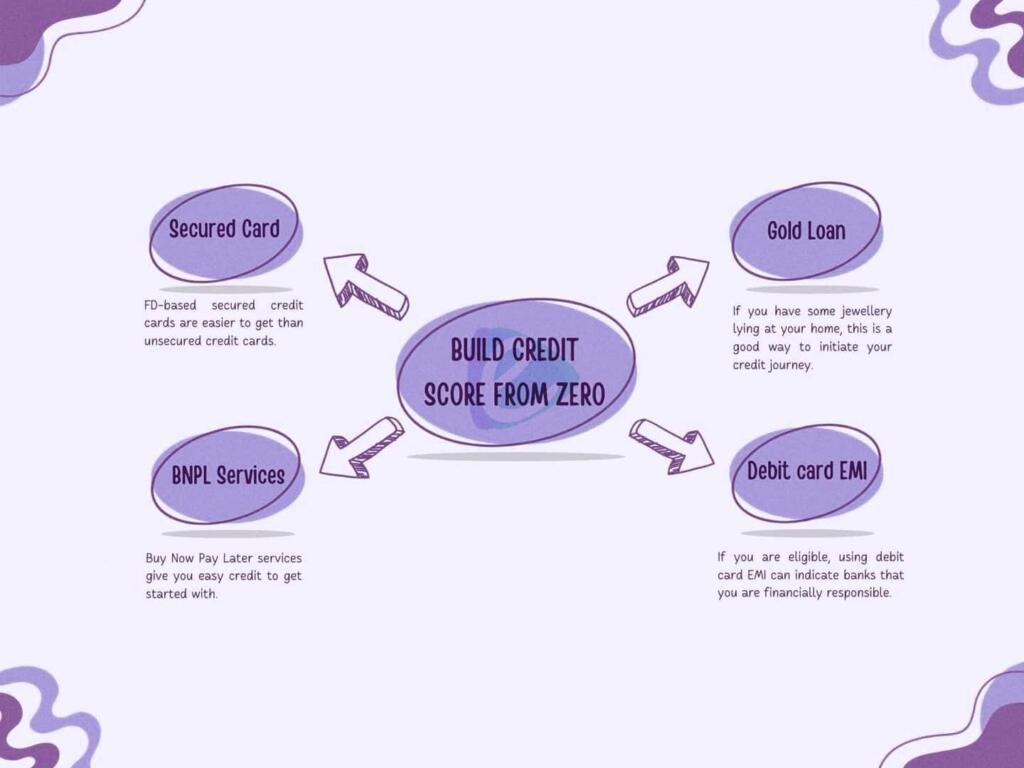 Following are some simple steps to kickstart your credit journey and get that score up from zero:
Sign up for a BNPL app or service: Obtaining access to Buy Now Pay Later (BNPL) credit service like Flipkart Pay Later or Amazon Pay Later is relatively easy and simple. These BNPL services have relaxed eligibility criteria, and most of them don't require any credit score or history. The credit limit of these BNPL apps might be very low, but it shall still serve as an excellent factor for building your credit score. Even if you sign up for a BNPL service and don't use it, you shall be starting your credit journey and building your credit score over time. Additionally, BNPL providers report credit records to credit bureaus. This means that using BNPL responsibly and making timely payments can contribute to building and improving your credit score.
Get a secured credit card: You might want to get a credit card against a fixed deposit called a secured credit card. Most leading banks have the facility to issue secured credit cards to users against fixed deposits. They're easier to get than unsecured cards; you get a percentage of your FD amount as your credit card limit, and secured credit cards work the way unsecured ones do, which means you can avail of bank-specific card offers, you can use credit card EMI, and get reward points on card usage. The lending banks report the usage data of these cards to credit bureaus, so secured credit cards can be a great way to kickstart your credit journey.
Get a pre-approved unsecured credit card: If you have a bank account already and are using the account actively for storing funds or transacting regularly, the bank might offer you a pre-approved credit card on the basis of your existing relationship with them. Pre-approved card offers mean you don't have to submit any documents, and the card issuer issues your card as soon as you give your consent. So check with your bank if you already have a pre-approved credit card offer.
Get a jewellery loan: Taking out a gold or silver loan can potentially help build creditworthiness, although it's important to note that these loans are secured loans, meaning they require collateral in the form of gold or silver assets. So if you have some jewellery at home, you can take a short-term jewelry loan.
Avail debit card EMI: If you are eligible for debit card EMI, you can consider using it. Timely repayments and responsible usage of debit card EMIs can help you build your credit score.
Become an add-on card user: If a relative of yours already holds a credit card, you can get an add-on credit card in your name based on their card. Add-on cards require PAN details of the add-on user, so they are issued solely to you, albeit on a shared basis. Continue using the add-on card responsibly to up your chances of getting credit card offers from the bank.
These are just some of the easier methods to build your score from scratch. Ofcourse, if you have the requirement, you can consider other types of credit, such as auto loans, home loans, etc. All of these loans and cards are reported to credit bureaus, so using them responsibly can help build your credit score and history.
Frequently Asked Questions
Still got questions? We've tried answering some of the most frequently asked questions below.
How to build my credit score from scratch?
If you have no credit history, your credit score is most likely 0. To build your credit score, you have to gain access to some form of credit and use it responsibly. Read our complete guide to building your credit score from zero.
Can I build my credit score without a credit card?
Yes, credit score can be built/generated without a credit card. You just need access to a form of credit, like a personal loan, to get started with your credit journey and generate your score.
How long does it take to build my credit score from zero?
It usually takes around three months for your credit score to be generated if you're sitting at zero. Then onwards, you can continue using your credit instruments responsibly to improve your score even further.
Is 0 credit score good or bad?
Zero credit score (and history) isn't bad, per se, but it isn't ideal. No score means you have a very low chance of getting credit approved, like home loans or credit cards. That said, no credit score is better than a bad credit score, as it is easier to build your credit score from zero than repairing a bad score.
What is a good credit score?
In India, any score above 700 (out of 900) is considered a good credit score. If the score is above 800, it means you have an excellent score and are among a small group of people who have achieved this feat.
That would be it for this guide. We hope this guide will help you start your journey into the world of credit. Remember, building credit is a gradual process that requires patience and responsible financial habits. By prioritizing the foundation of your creditworthiness, you set yourself up for greater financial opportunities in the future. Good luck!