Buy Now Pay Later (BNPL) has taken the retail world by storm, offering an alternative way to make purchases without upfront payments. But what exactly is BNPL, and how does it work? In this comprehensive explainer, we'll dive deep into the world of BNPL, shedding light on its concept, benefits, potential drawbacks, and how it reshapes the way we shop today.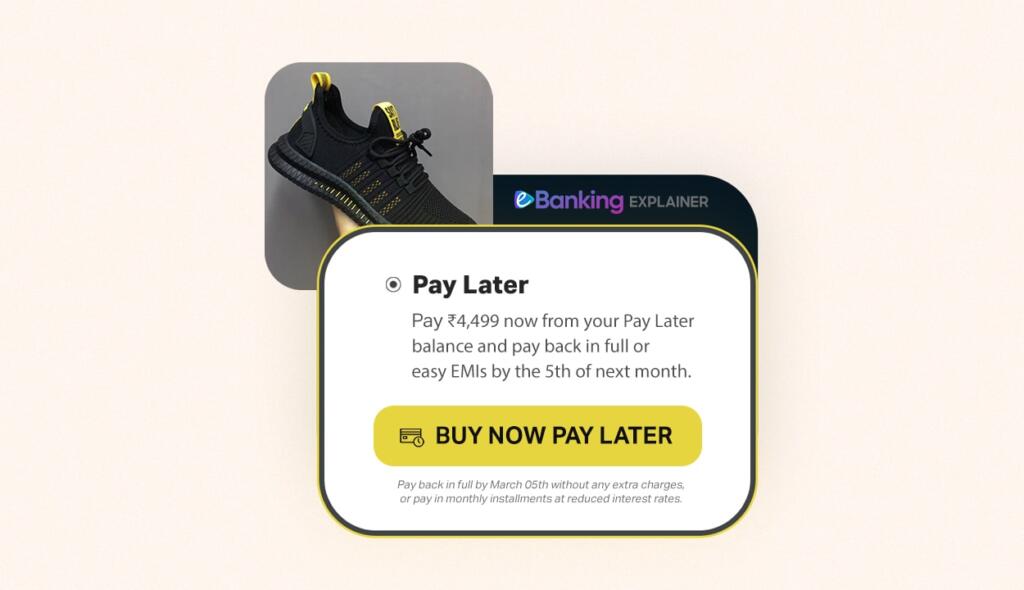 Table of Contents
What is BNPL?
Buy Now Pay Later (aka BNPL) is a modern short-term credit-backed payment option that allows consumers to make purchases upfront and then pay for them over time. It has gained significant popularity in recent times due to its convenience and flexibility. With BNPL, users can enjoy the benefits of immediate ownership of their desired products or services without having to pay the total amount at the time of purchase. Instead, they can opt to pay the whole amount at a later time, or they can split the cost into manageable installments, often interest-free or with low fees, making it an appealing alternative to traditional credit cards or personal loans.
By offering this payment option, BNPL service providers aim to offer greater financial flexibility, enhanced budgeting control, and a seamless shopping experience for users. It has particularly helped users who may not have access to traditional credit or prefer to avoid the constraints and potential interest charges associated with credit cards.
How does BNPL work?
In a BNPL service, a lending company (like a bank or NBFC) partners with a fintech or retail company (like Paytm) to offer users rotating credit. Users get the option to transact using the BNPL facility at supported merchants and get a time frame to pay the BNPL amount back to the service provider at a later time. In short, when the user makes a purchase using the Buy Now Pay Later service, the lender pays on the user's behalf. The user can then pay the BNPL dues later, just like credit cards.
While some BNPL services can be used on many merchants, some can only be used at one (or a selected few) merchants. Also, the rise of BNPL service also influenced the growth of pay-later cards or BNPL cards like Slice & LazyPay card.
As a form of credit is sanctioned to users, banks and NBFCs have to open a credit (mostly personal loan) account for the user and report it to credit bureaus. We have a handy list of major pay later service providers in India and their lenders that you may find in your credit report.
Buy Now Pay Later Pros
Following are some of the major benefits of BNPL services and apps:
Convenience: BNPL services provide a convenient way to make purchases without needing to pay the full amount upfront. It allows users to bring home desired products immediately without waiting to save up or arrange for the entire payment at once. BNPL services are typically integrated with various online retailers, making the checkout process seamless and quick.
Easy Installments: BNPL services enable users to split their payments into easy installments over a specific period.
Interest-Free Periods: Many BNPL providers offer interest-free periods, allowing users to pay off their purchases within a specific timeframe without incurring any interest charges. This can be particularly beneficial if the user can repay the amount within the interest-free period.
Access to Credit: BNPL services may provide an accessible form of credit for individuals who may not have a credit card or a strong credit history. It serves as an excellent method to build credit score and profile, for people who are new to credit.
Variety of Partnerships & Offers: BNPL providers often have partnerships with numerous retailers, offering a wide range of products and services to choose from. This allows users to enjoy the benefits of BNPL across different industries and fulfill their diverse purchasing needs. Also, there are occasional offers and deals on the use of BNPL as a payment method.
Overall, BNPL apps and services in India provide users with greater financial flexibility, access to credit, and a convenient payment option for their purchases, making it an appealing choice for many consumers.
Buy Now Pay Later Cons
Intrigued by all the benefits of BNPL? Well, as they say, every coin has two sides. So, here are some of the potential drawbacks and cons of pay later apps and services you need to keep in mind:
Overspending Temptation: BNPL services can encourage impulse buying and overspending since users may be enticed by the ability to pay later. Without proper budgeting and self-discipline, it's easy to accumulate debt and struggle with repayments while falling into the infamous debt trap.
Late Payment Fees: If you fail to make your payments on time, BNPL providers may charge late fees or penalties. These additional charges can quickly add up and impact your overall debt burden.
Impact on Credit Score: While BNPL services can provide easy access to credit, it's important to remember that your credit behavior is still being reported to credit bureaus. Missed or late payments can negatively impact your credit score, making it harder to secure loans or credit in the future.
High Interest Rates: Some BNPL providers may charge interest or fees if you don't pay off the balance within the interest-free period. These interest rates can be significantly higher than traditional credit cards or personal loans, leading to increased borrowing costs.
Limited Acceptance: Not all merchants accept BNPL services, which means your options for utilizing this payment method may be limited. It's crucial to check the availability of BNPL at your preferred retailers before relying on it for purchases.
Hidden Charges: Some BNPL services may have hidden fees or charges that users may not be aware of upfront. It's crucial to carefully read the terms and conditions to understand any potential costs associated with the service.
BNPL vs. Credit Cards
Following are some of the major differences between the new-age Buy Now Pay Later services and traditional credit cards:
Interest Rates: Most pay later apps and services have low or nil rates of interest for the credit they provide, while credit cards have fixed, high rates of interest.
Eligibility: It is relatively easier to access BNPL credit than traditional credit cards as they require little to no credit history and income proof.
Acceptability: Credit cards have wider acceptability, while BNPL has limited or restricted acceptability.
Fees & Charges: Generally, BNPL services come with zero or very low joining and annual fees, while credit cards bear these charges. The major charges BNPL services bear are interest rates on EMIs and late payment penal charges.
Rewards & Benefits: Due to the limited acceptability and lower profit margins of service providers, BNPL services generally don't have many offers or rewards. Their primary benefit is easier access to credit. Credit cards, on the other hand, come in a host of variants and with a lot of partnerships, giving users access to deals, offers, and rewards on spends, throughout the year.
BNPL in India
In India, Buy Now Pay Later services like Amazon Pay Later, Paytm Postpaid, and Mobikwik Zip have gained huge userbases and immense popularity in recent years. These are just some of the more popular ones, but there are many others.
If you're interested in opening a BNPL account, you may check our list of the best pay later services in India.
Frequently Asked Questions
Got questions about BNPL services? We've answered some of the most common ones below:
What does BNPL mean?
BNPL stands for "Buy Now Pay Later" or "Book Now Pay Later". It is commonly also called "Pay Later" in short. BNPL is a short-term credit offered to users by fintech companies and lending bodies. It allows users to make purchases upfront and pay later, either in total or in installments, providing convenience, flexibility, and access to credit.
What are some examples of BNPL in India?
Amazon Pay Later, Paytm Postpaid, Flipkart Pay Later, Freecharge Pay Later, Zest Money, LazyPay, etc., are among the most popular BNPL apps and services in India.
Does BNPL affect credit score?
Yes, lenders create a credit account and report the usage to credit bureaus, as they are required by law. Good and responsible usage can lead to an overall improvement in one's credit score and profile, while irresponsible use may result in a fall in credit score.
What is the difference between BNPL and credit cards?
Credit cards are the traditional long-term, more widely accepted, and more rewarding form of credit, while BNPL is a newer, short-term rotating form of credit that is easier to get access to, has lower acceptance than credit cards, is less rewarding, and has lower fees of ownership and maintenance.
Is BNPL a loan?
Yes, BNPL is a form of short-term rotating loan. These loan accounts are either personal or consumer durable loans, sanctioned by the lending banks and NBFCs, in partnership with fintech and retail companies.
In conclusion, while BNPL offers many advantages, it is a type of credit at the end of the day. It is absolutely essential for users to understand the terms and conditions, potential fees, and responsible borrowing practices to avoid falling into debt and overspending, just like any other form of credit.