It isn't just the end of the financial year, it seems. After mere months of the SBI Cashback credit card being launched and making headlines for overtaking the throne of the best cashback card from Axis Ace, the crowd-favorite card benefits are being devalued, to say the least. Here's everything you need to know.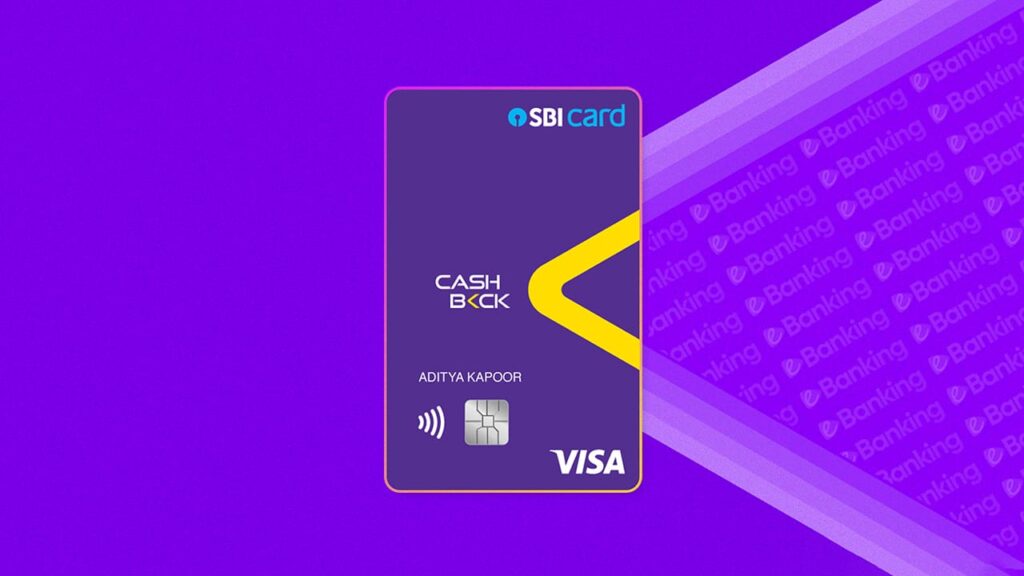 Table of Contents
The Cashback card from SBI came loaded with never-seen-before benefits, like 5% cashback on online transactions (there were a few exclusions, but it gave 5% back on almost all e-comm transactions), 1% unlimited cashback on offline spends and utility bill payments, four complimentary domestic lounge access, and no joining fees. While the 'zero joining fee' was an introductory offer valid till the 31st of March 2023, the other features were meant to be the card's primary USPs and help the card become the "everyone's favorite" default cashback card in the market.
Well, if you already hold the Cashback SBI card or you were thinking of getting it in your wallet, there's sad news for you. Keep reading (and grab some tissues).
SBI Cashback Credit Card Devaluation: What's Changing?
SBI Card, on the 30th of March, started sending out notifications to SBI Cashback credit card holders regarding revisions in its features and benefits. We have attached a copy of the notification below. It is pretty self-explanatory, but we've tried to expand on those changes below if you were unaware of the card features before the revision (or devaluation).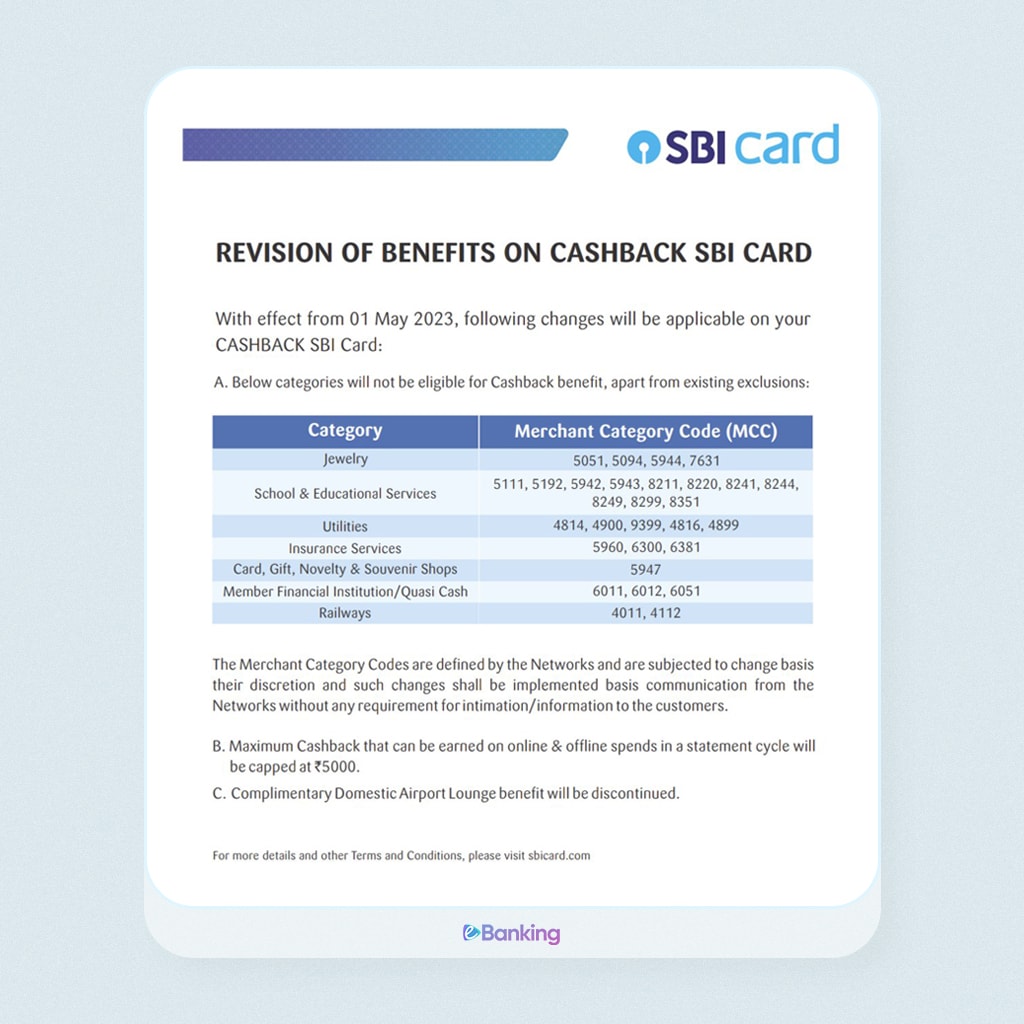 So down to the meaty stuff. Following are the devaluations the SBI Cashback credit card is going through, wef. 01.05.2023.
1. Zero cashback (excluded transactions)
The following transaction categories will not be eligible for any cashback:
Jewellery (down from 5% cashback online and 1% cashback offline)
School & educational (down from 5% cashback online and 1% cashback offline)
Utility payments (down from 1% cashback)
Insurance payments (down from 1% cashback)
Gift cards, novelty & souvenir shops (down from 5% online and 1% cashback offline)
Member financial institution and Quasi cash (down from 5% online and 1% offline)
Railways/IRCTC (down from up to 5% cashback)
The corresponding MCC for the transitions are mentioned in the image above. Cashback shall be decided based on the MCC passed onto the bank during transactions.
2. Upper limit on cashback
From the first of May 2023, the card shall only get a maximum cashback of ₹5,000 per billing cycle. Previously there was no such hard limit to the cashback earned with this card. The upper cap of the 5% cashback was ₹10,000, after which transactions done on the card gave 1% back without any upper limit. So technically, the maximum cashback per billing cycle has been reduced to just ₹5,000 from unlimited.
3. Removal of complimentary lounge access
This is also a significant devaluation as the four annual complimentary domestic airport lounge access benefit is being depreciated. According to the revision, the card shall now have no free lounge access at domestic airport lounges, but you can still access lounges by paying the lounge charges.
4. Say hello to joining fees
This can't be called a devaluation, per se, but considering the slew of other devaluations, this also counts as a downgrade. The cashback SBI credit card was issued as a first-year-free card and had an annual fee of ₹999 (plus taxes). However, for applications after 31st March 2023, new cardholders will also have to pay a joining fee of ₹999 (plus taxes).
Also, it should be noted that the card's annual fees can be waived if the annual spending on the card exceeds two lacs in the previous card year. However, there are no spend-based joining fee waiver conditions at the moment.
If you are interested, you can apply for the SBI Cashback credit card through the below link:
That's all (for now). Let us know your thoughts on the devaluation if you hold this card or if you were planning to get one.