A couple of months after the end of Zomato Pro and Pro Plus and simultaneous significant RBL Zomato Edition credit card devaluation, RBL and Zomato have now called it quits. The co-branded RBL Zomato Edition Credit Card lineup is being discontinued in May. Here's everything you need to know if you hold an Edition card or are planning to get one.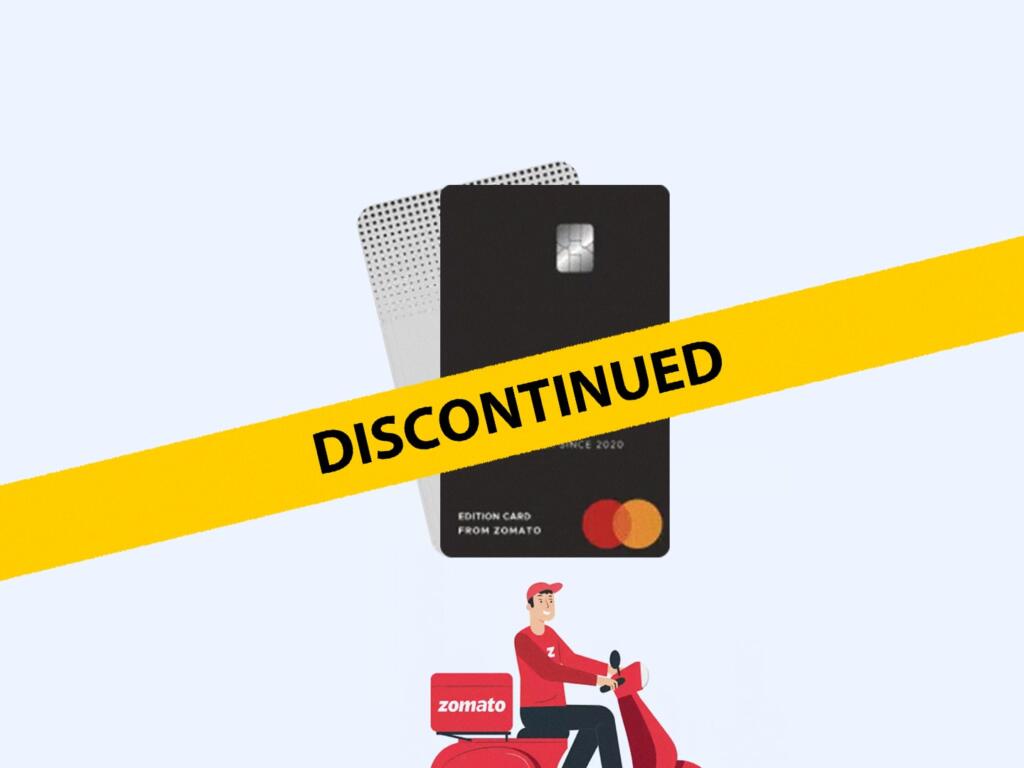 Table of Contents
Yes, it is the end of the road for RBL Zomato Edition credit cards. RBL Bank started sending out notifications to Edition cardholders regarding the end-of-life of the Edition Classic and Edition (Black) credit cards in May '23. This discontinuation is a result of the end of the partnership between RBL Bank and Zomato. It is important to note that RBL had started to halt new applications and onboarding new Edition card customers since February, as confirmed by us from Edition support.
RBL Zomato Edition Credit Card Features & Benefits
The Edition line of credit cards offered cardholders benefits on Zomato and partner brands, some of which were:
Up to 10% value back on spends on Zomato and Blinkit
1% value back on all other spends (except fuel, rent, and wallet recharges)
Complimentary Zomato Pro and Pro Plus subscriptions (discontinued in February)
Milestone rewards of 2000 bonus edition cash back every year
In addition to these, the Edition Black and Edition Classic cards were offered to a lot of customers as lifetime-free cards, meaning without any joining or annual charges.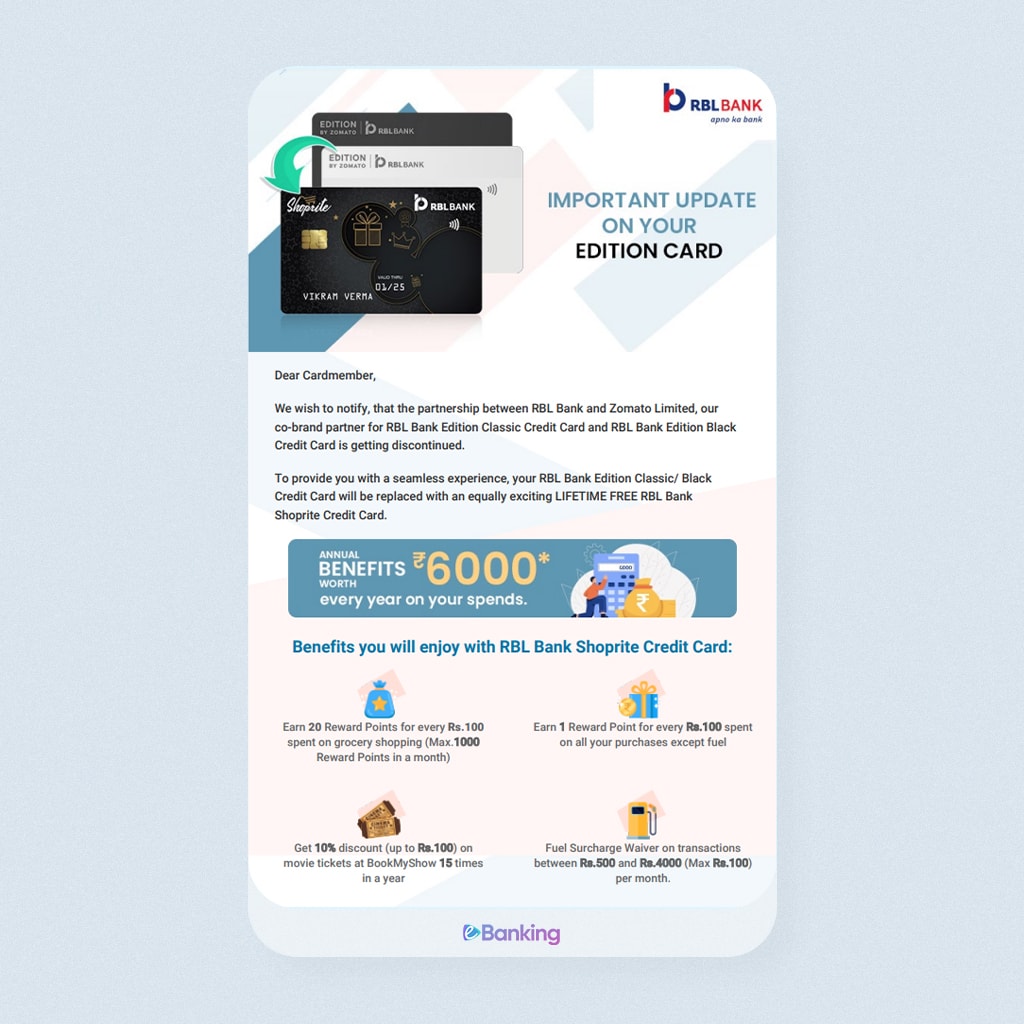 RBL Zomato Edition Credit Card Replacement
Since the Edition cards are being discontinued, RBL Bank shall replace the existing RBL Zomato Edition Credit Cards with lifetime-free RBL Shoprite credit card. The RBL Shoprite credit card shall be automatically issued to existing Edition cardholders on the 15th of May 2023 and shipped to their registered addresses. Here are a few essential things you need to know if you currently hold an Edition card:
The lifetime-free Shoprite card will be automatically issued to you (and all existing Edition cardholders), and Edition cards will be closed starting 15 May 2023. The RBL Shoprite cards shall be delivered to you at the address registered with RBL Bank.
All existing dues and EMIs from your existing Edition card shall be transferred to the replacement Shoprite card after it is issued.
The Edition card dashboard shall not be available on the Zomato app from the 15th of May, so you can redeem the Edition cash into Zomato credits on or before the 14th of May.
Unredeemed Edition cash shall be transferred to the Shoprite card as cashback (1:1 ratio) by the 30th of May.
If you have paid annual/renewal fees for your Edition card after 1 May 2022, it will be automatically reversed to your Edition card account by 10 May 2023. As mentioned, the replacement Shoprite credit card shall be lifetime-free without any joining or annual charges.
You can contact RBL Bank support for any doubts or support. We recommend you do so if you wish to change your registered address or opt out of the conversion by closing your existing Edition card before the 14th of May.
RBL Shoprite Credit Card Benefits & Features
Shoprite is the alternate credit card that RBL shall issue to all Edition cardholders. RBL Shoprite is an entry-level credit card from RBL Bank. Following are some of the perks you get with the RBL Shoprite credit card:
20 reward points per every ₹100 spent on grocery purchases (5% value back)
1 reward point per every ₹100 spent on other categories.
10% upfront discount (maximum ₹100 per transaction) on BookMyShow movie tickets 15 times a year.
Fuel surcharge waiver on transactions between ₹500 and ₹4000 (maximum ₹100 per cycle).
No joining or annual fees for Edition cardholders (reg. annual fees of ₹500+taxes)
You can get more details about the card on RBL Shoprite Credit Card official product page.
When the Edition cards were devalued in February, we wondered if any practical benefits remained of the cards. We have the answer now: no card, no benefit. That'll be all for now. Drop comments and let us know your thoughts and queries; we're all ears.