Kotak and fashion retail marketplace Myntra have joined hands to launch Myntra Kotak Credit Card – the first-ever Myntra co-branded credit card. The card comes loaded with offers and benefits, not just for Myntra users but also for other merchants. Read on for all the details on the new credit card.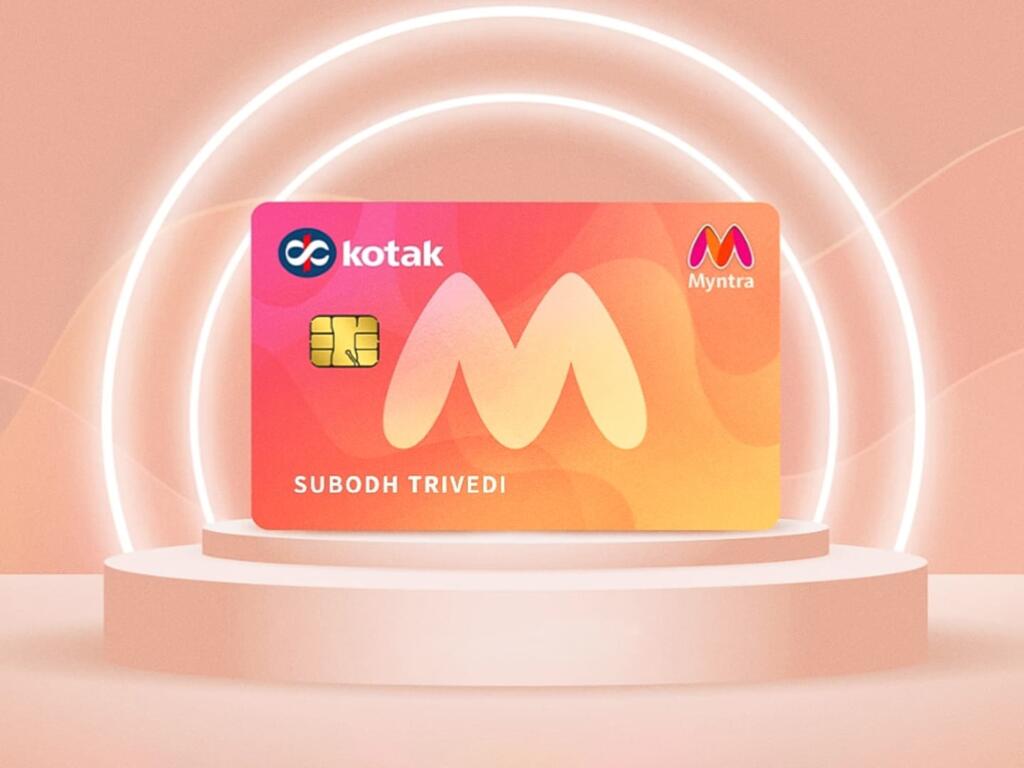 Table of Contents
The newly introduced Myntra Kotak credit card is designed specifically for frequent Myntra shoppers as an entry-level cashback credit card. Myntra, the leading online fashion retail marketplace, has collaborated with Kotak to offer this card, aiming to enhance the shopping experience for its loyal customers. With its focus on delivering value and rewards, the Myntra Kotak credit card adds an extra layer of convenience and savings for avid Myntra shoppers, but that isn't all it offers.
Myntra Kotak Credit Card Features & Benefits
The Myntra Kotak card comes loaded with exciting and rewarding features for cardholders. Below are the major features and benefits of the newly launched card: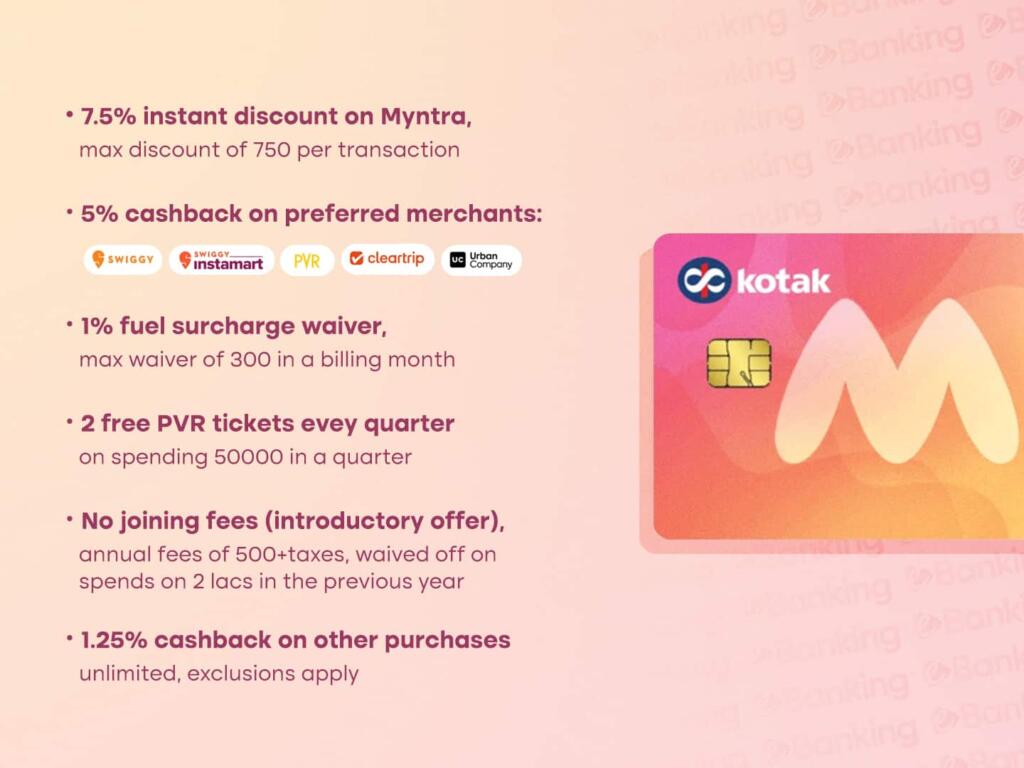 7.5% Instant Discount on Myntra Purchases: Using the card on Myntra will entitle users to get a flat 7.5% instant upfront discount. There are no limits to the amount of discount users can avail, except a max discount restriction of ₹750 applies per transaction.
5% cashback on partner merchants: Users will get 5% cashback on using the card at a selection of preferred merchants (Swiggy, Swiggy Instamart, PVR Cinemas, Cleartrip, and Urban Company). Maximum cashback users can get on such transactions shall be limited to ₹1000 per billing cycle.
1% fuel surcharge waiver: 1% of fuel surcharge shall be waived/reversed on fuel transactions across petrol stations in India.
Welcome benefit of ₹500 Myntra gift voucher: As a card activation offer, a Myntra gift voucher of ₹500 value shall be provided to cardmembers after their first transaction.
Milestone benefit of 2 free PVR tickets: Upon spending ₹50,000 in a calendar quarter, the cardmember shall receive two free PVR tickets worth ₹250 each (₹500 total) as milestone rewards.
No joining fees: As an introductory offer, the Kotak Myntra card shall not bear any joining charges. This introductory offer's validity is limited and subject to change at any time.
1.25% unlimited cashback on all other spends: Users get 1.25% unlimited cashback on transactions done apart from the mentioned special/preferred merchants, excluding rent payments, fuel purchases, post-purchase EMIs, wallet loading transactions, and cash advances.
Other than these major benefits and features, the card also comes with complimentary 1-year access to the Myntra Insider Select program and one complimentary domestic lounge access per quarter.
Myntra Kotak Credit Card Fees & Charges
On paper, the Kotak Myntra card bears a joining fee of ₹500 (plus taxes) and also an annual fee of ₹500 (plus taxes) as well. However, as an introductory offer, the card shall bear no joining fees, making the card first-year-free (FYF).
In return for paying the joining fees, the cardholders shall be rewarded with a Myntra gift voucher of ₹500, which can be redeemed on Myntra purchases. As for the annual fee, it can be waived off on spending ₹2 lacs in the preceding card membership year.
Myntra Kotak Credit Card Eligibility
While neither Kotak nor Myntra have clarified the specific eligibility criteria for the credit card yet, considering it is an entry-level co-branded credit card, the following can be the eligibility norms (in line with other Kotak entry-level credit cards):
Indian residents between the age of 18 and 65 years
Regular source of income
Serviceable address
Good credit score and profile with no defaults or write-offs.
Myntra Kotak Credit Card Application
Interested users can apply for the credit card on the following page:
The application process involves three major steps:
Fill in your details and submit the application
Upload documents if asked and complete KYC
Wait for the bank to process your application
You can find answers to the most frequently asked questions about the card here.
Let us know your thoughts and opinions about this new credit card offering in the comments.